Maryland State FFA Officer Profile
Cahlen Cheatham: Maryland State Vice President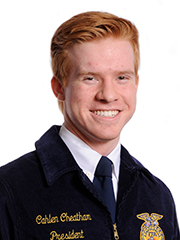 Cahlen Cheatham
State Vice President
2017-18
Home Chapter: Oakdale FFA
SAE Description: My first SAE is in equine rehabilitation and healthcare. My second one is in researching and developing strategies to promote a positive image of the FFA.
FFA Passion: I love meeting people and sharing the FFA story. There is nothing more I enjoy than to witness a new member's smile when they just realize how remarkable the FFA is for developing their future.
Career Goal: I hope to one day become an Equine Veterinarian. My second plan is to be involved in agricultural politics.